Easy and simple
Get High Conversion Rates on Landing Pages
Celebrating an unconventional lineage of women, spawned by a fierce Indian Warrior Queen. Bold, vibrant and elegant.
get your statement piece
Handbag COLLECTION
" an invitation for women to find their own inner queen, and to dare to express it with class, authenticity, confidence and style. "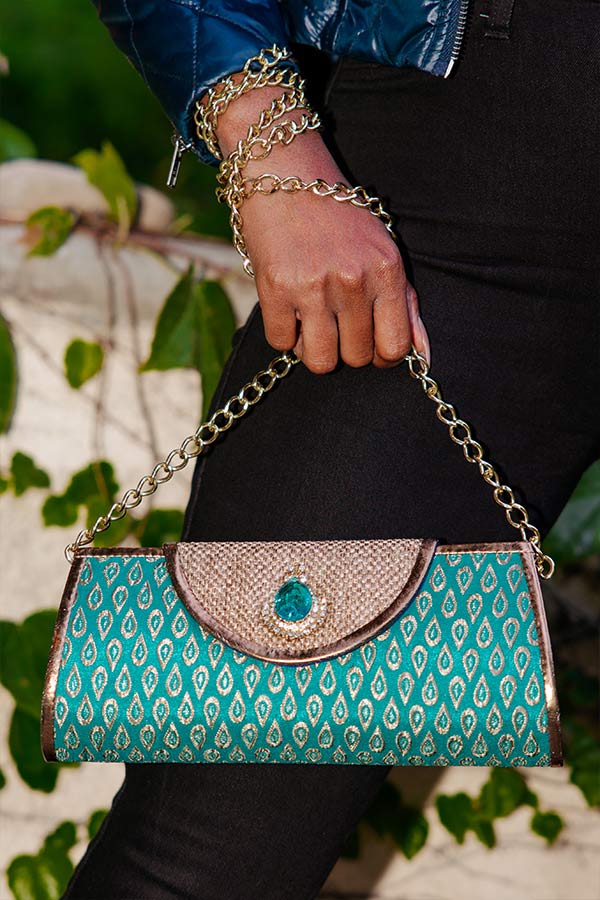 limited edition
New ! Encrusted Jewel Mini Baguette
Our baguette is handmade in a 5-person workshop in the outskirts of Mumbai. The compositions of colors, textiles and beads, both elaborate and refined, pay homage to Indian traditional style, while incorporating a contemporary flavor.
Buy Lakshmi now
Veronica Tharmalingam
LIMITED Edition STATMENT Pieces
— for Every Woman
Wearable Works of Art
Our pieces are wearable works of art featuring exclusive, rare, and unique designs that are unparalleled in beauty and intricacy.
Fusion of Design & Artistry
Our pieces are a fusion of modern design and India's finest craftsmanship and artistry.
Handcrafted by Artisans
Our pieces are handcrafted by a curated group of Indian artisans handpicked by designer and founder Veronica Tharmalingam.
Inspired by Heritage
Our pieces are inspired by and build upon the rich heritage and legacy of Indian jewelry-making and gem-cutting skills that dates back several centuries.
Unparalleled Intricacy
Our pieces are India-made priding itself on its unparalleled beauty and intricacy.
Leverages India's Craftsmanship
Our pieces leverage India's prolific history of fine jewelry craftsmanship that has been passed down from one generation to the next for centuries.
PURPOSE
Hand-picked. Sustainably sourced.
We source handcrafted textiles and trims already available in the market in India that are produced during each festival seasons thus we keep our carbon footprint to the minimum and are careful to not contribute to the fashion industry pollution. This results in fabric colors and patterns variations keeping all our handbag models unique every season and every collection.
shop the bag
PURPOSE
Socially Conscious
30% of all sales go to Charities in India for Child Labor Abolishment + Sri Lanka Hospitals in rural areas:
15% of sales helps abolish child abuse and child labor.
10% of sales contribute to better quality of life for Indian artisans ensuring quality food, shelter and education for them and their families.
5% of sales go towards a medical mission for Sri Lanka and India to help provide better health treatments in rural areas.
Order your Lakshmi
Frequently Asked Questions
Crafted with utmost care, Veronica Tharmalingam designs require special attention. Each exclusive piece can be reinvigorated. Whether you're treating silk, enhancing hardware or buffing fine metals, our specialists will restore your pieces and bring them back to life with expert precision.

Any questions? Do not hesitate to Consult a Veronica Tharmalingam specialist via email for further care suggestions.
Requests for returns and exchanges should be made within fourteen (14) days after purchase to info@veronicatharmalingam.com. Once your return or exchange is approved by one of our customer care associates, they will e-mail you shipping instructions. Returns must be received within twenty-eight (28) days from the date of purchase. Each return and exchange is handled on an individual basis, and restocking fees may apply. To be eligible for a return, the merchandise should be returned in the same condition as it was received. Please include the original packing slip with your return. We value your opinion and encourage your feedback.

On the back of the packing slip, please note the reason(s) for the return.Our specialists are always happy to assist with any further enquiries you may have. Please do not hesitate to contact us at info@veronicatharmalingam.com
Your Veronica Tharmalingam product is warranted against defects in materials and workshmanship for a period of ONE (1) YEAR from the date of the original retail purchase ("Warranty Period") when used in accordance with Veronica Tharmalingam Care process (refer to https://veronicatharmalingam.com/pages/faqs under How do I care for my Veronica Tharmalingam handbag /Jewelry). Under this warranty, you will be able to direct your claims to Veronica Tharmalingam even in situations where you purchased the product from a third party. If a defect arises during the Warranty Period, Veronica Tharmalingam, at its option will (1) repair the Product at no charge using new parts, (2) exchange the Product with a replacement product of the same model (or with your consent a product that has the same or substantially similar features as the original product – e.g., a different model with the same features, or the same model in a different color) that is new, or (3) refund the original purchase price. This warranty excludes normal wear and tear unless failure has occurred due to a defect in materials or workmanship and, damage resulting from abuse, accident, modifications, unauthorized repairs or other causes that are not defects in materials and workmanship.In no event shall Veronica Tharmalingam be liable for (a) loss or damage, which as of the product's purchase cannot be regarded as being caused by Veronica Tharmalingam's breach of these warranty terms; or (b) losses caused by the user's fault.Any limitations of liability in this warranty document shall not apply to (i) death or personal injury pursuant to any mandatory law on product liability; (ii) fraud or fraudulent misrepresentation; (iii) intentional misconduct or gross negligence; (iv) or a culpable breach of major contractual obligations. A damages claim based on a breach of major contractual obligations or gross negligence will be limited to foreseeable damage typical for the sale contract concerned. To obtain warranty service, contact Veronica Tharmalingam using the information described at https://veronicatharmalingam.com/pages/faqs Proof of purchase may be required to verify eligibility. 
Your Veronica Tharmalingam bag will be crafted with the highest attention to detail at our atelier in India and will ship to you in 12 weeks. You may also email us at info@veronicatharmalingam.com for more information on expected delivery dates.
Enjoy complimentary ground shipping on all orders above $800. See our shipping policy for details.